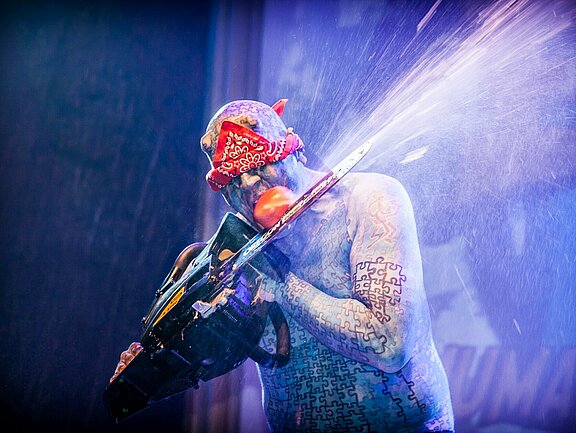 Wildstyle & Tattoo Fair
29. - 30. October 2022 | Event | consumer fair
THE WILDSTYLE & TATTOO FAIR - EUROPE'S MOST SUCCESSFUL & SPECTACULAR TATTOO SHOW - ENTERS ITS 27TH YEAR IN 2022!!!
After the great comeback of WILDSTYLE 2021, which finally celebrated its 25th anniversary after being postponed 5 times due to Corona, the WILDSTYLE & TATTOO FAIR 2022 will still come to Linz, Salzburg and Bad Ischl!
"THE START OF THE NEXT 25 YEARS!"
...an admittedly "somewhat" lofty goal, but who could have imagined in 1995, the year Wildstyle was founded, that Wildstyle would still be captivating tens of thousands of visitors in every city in 2021!!!
29 & 30 October 2022 - A-Salzburg, Messezentrum - Hall 4
Incl. SODOM & V8 WANKERS on Saturday
DORO & HEAVEN2HELL on Sunday
!! Live in concert !!
And incl. European Street Food Festival in the outdoor area with free entrance !!!
The Wildstyle Crew tries to go one better every year, and they will succeed in 2022 too!!!
We have already booked an incredibly fat programme for you!!!
Dozens of international top tattoo artists, exhibitors and star guests from 5 continents and more than 25 countries will be at the Wildstyle Tour anyway!!!
BUT IN THE MEANTIME WE COULD ALSO BOOK THE ABSOLUTELY FATTEST NON-STOP SHOW PROGRAMME EVER FOR YOU!!!
FREAKSHOWS, SHWOWGIRLS & ACROBATS AND ALSO SENSATIONAL LIVE CONCERTS DIRECTLY AT THE WILDSTYLE STAGE - without additional entrance fee - YES! Also the live concerts are already included in the Wildstyle entrance fee of only EUR 20,-!!! And all bands play regular concerts in full length and with all hits!!!
For more information on the Wildstyle & Tattoo Fair, please visit: www.wildstyle.at

Buy tickets HERE.
Or purchase directly on site at the day/evening box office.
Opening hours
Saturday
October 29, 12pm - 12am
Sunday
October 30, 12pm - 8pm