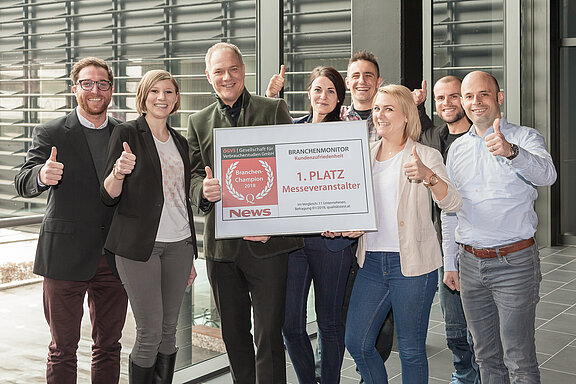 21. March 2018
Messezentrum Salzburg is the industry's 'customer satisfaction' champion!
Austria's top eleven exhibition organisers were recently subjects of a research study, 'The 2018 Industry Monitor for Customer Satisfaction', conducted by the Austrian Society for Consumer Studies (ÖGVS) in cooperation with NEWS, a major Austrian news magazine.
Messezentrum Salzburg tops test results table!
"The success of a business in service provision, such as ours, is majorly influenced by the quality of the services provided. On top of the benefits offered by the modern venue facilities, our employees also play a decisive role in our success. The fact the entire team has experienced the positive customer reactions, in the form of this seal of approval, is a magnificent reward for the efforts they put in for our visitors, exhibitors and organisers on a daily basis!" stated Michael Wagner, CEO at Messezentrum Salzburg GmbH, in response to being awarded the title of 2018 Industry Champion.
The Society for Consumer Studies explains the significance of the customer satisfaction factor:
From a consumer point of view, the evaluations and recommendations of friends, acquaintances and even complete strangers play an important role in the choice of product, dealer or service. Faith in the flashy ads and bold promises many companies make has waned. Indeed, there is often scepticism as regards reports in newspapers and magazines. When making their choices, many consumers rely mainly on the experiences and degree of satisfaction expressed by other customers.

During the course of the study in August and September 2017, this Austria-wide online customer poll amassed 11,239 random interviews and a total of 412,792 company questionnaire submissions. Poll participants rated each expo company on a scale of 0 - 10. There was a subsequent analysis of all companies that had been rated at least 100 times.
For all details of study methodology: http://www.qualitaetstest.at/awards/branchenmonitor2018/